Articles, Blogging for Business, Social Media
Good morning NSquared readers!
Do you have a blog?
If so, chances are you want people to read it, right? Well Hubspot posted a fantastic article, "How to Concert Casual Blog Visitors into Dedicated Subscribers". Check out Part I below:
"How to Convert Casual Blog Visitors Into Dedicated Subscribers
You probably know all too well by now that content creation is a very necessary function of successful inbound marketing. And for the inbound marketers who embrace that, abusiness blog is one of the most reliable and effective platforms for publishing much of the content they create.
But if you've been consistently blogging for a while, you probably have all the business blogging basics down pat. So wouldn't it be great if you could take your blogging to the nextlevel, scaling the impact of your blog so it makes an even bigger, better, and more powerful dent in your marketing results?
Enter the concept of 'blog marketing,' which refers not to using a blog to market your business, but instead to implementing a marketing strategy to grow and scale the impact of your blog. In other words, marketing for your blog. There are three critical steps to blog marketing: 1) getting your blog discovered by new visitors, 2) converting those visitors into dedicated subscribers, and 3) leveraging your blog evangelists to share your content and attract brand new audiences.
So let's say you've worked through step number 1, and you've got a good amount of blog traffic flowing. How can you get those folks to stick around and keep coming back so they become avid readers and fans of your blog content? With step number 2: by converting those visitors into subscribers! In this article, we'll give you some great tips for turning those casual visitors into valuable, dedicated blog subscribers.
1) Blog Frequently (and Make Sure It's High Quality)
First things first: frequency matters. How can you expect visitors to subscribe to your content if you rarely or infrequently publish anything for them to come back to? You wouldn't exactly be making the strongest case for subscription. If you really want to scale your blog, you need to make a commitment to boosting your blogging frequency. According to an internal study of HubSpot customers, businesses that blog more than once per week add new blog subscribers at twice the rate of businesses that blog just once per month.
Yes, frequency matters — so work your way up. If you're currently blogging once a month, work your way up to once a week. If you blog once a week, work your way up to a few times a week. Truthfully, the most successful blogs publish content daily — or multiple times a day.
Keep in mind, however, that a boost in frequency can't come with a decrease in quality. Your new visitors won't be enticed to subscribe if they don't find your content to be worthy of their attention. And with all the crappy content out there, you can't afford mediocrity if you want to win over those new visitors. For more on creating high-quality content, here's how to tell if your content is actually valuable, and here are eight instant ways to improve your content's quality if it's not.
2) Encourage Blog Subscription (Particularly Email)
If you want people to subscribe, encourage blog subscription! Sounds simple right? But it's amazing how often I have to hunt through a blog's homepage to find where in the heck to subscribe. Make it easy for visitors to subscribe — put your subscribe module above the fold on your sidebar, and display it prominently.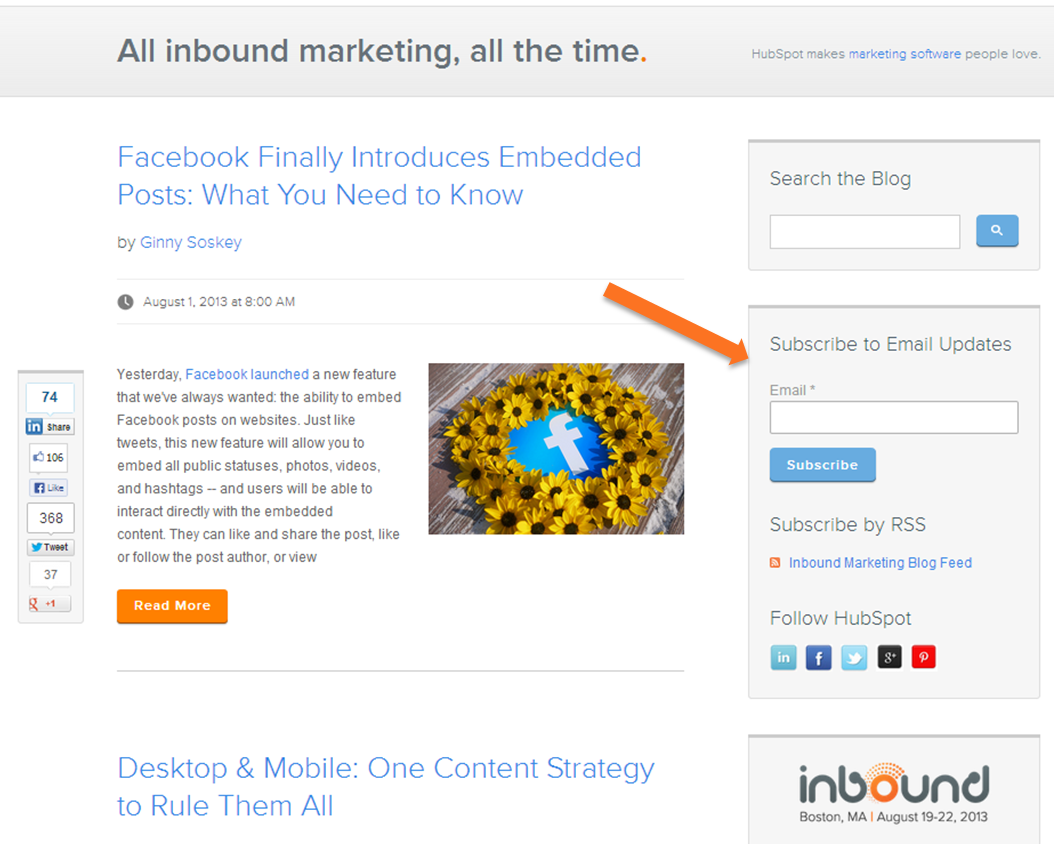 Also notice how I mentioned you should emphasize email subscription. Remember, there are two ways your visitors can subscribe to your blog — via RSS, and via email. Both are valuable, but email subscription can have a much bigger impact than RSS subscription. Email boosts traffic to your blog, since subscribers get emailed whenever new content gets published (compared to RSS, which subscribers have to manually check on their own).
In fact, 14% of our monthly traffic to the HubSpot blog comes from email. And to tie this all back to the importance of blogging frequency, in that same study of HubSpot customers we mentioned earlier, we learned that businesses that blog more than once per week generate 9x more blog email traffic than businesses that blog just once per month. Convinced that you should put more of an effort into generating email subscribers yet?"
Contact us if you need a website, inbound marketing campaign, or IT consulting. Stay tuned for part II where we share more tips on boosting your subscribers and talk about CTA's (call to actions).