Articles, Blogging for Business, Inbound Marketing, Social Media
Howdy readers!
Welcome to Part II of our blog series featuring Hubspot's article, "How to Convert Casual Blog Visitors Into Dedicated Subscribers". Keep reading for more tips on having more subscribers and better CTA's (call to actions).
"How to Convert Casual Blog Visitors Into Dedicated Subscribers
….continued…
Tips for Encouraging Subscription
One great tip for encouraging blog subscription is to use social proof to show new visitors just how popular your blog is among their peers. If you have impressive traffic or subscriber numbers, consider showcasing those. Something as simple as "Join more than 1,000 [insert persona]s who already subscribe!" can help you convert those visitors who may be on the fence.
Another smart way to incentivize blog subscription is through the use of free offers. Check out how HubSpot partner IMPACT Branding & Design does it on its blog. They provide a little something extra for new subscribers by also providing a free ebook (something usually reserved for visitors who complete a much longer form):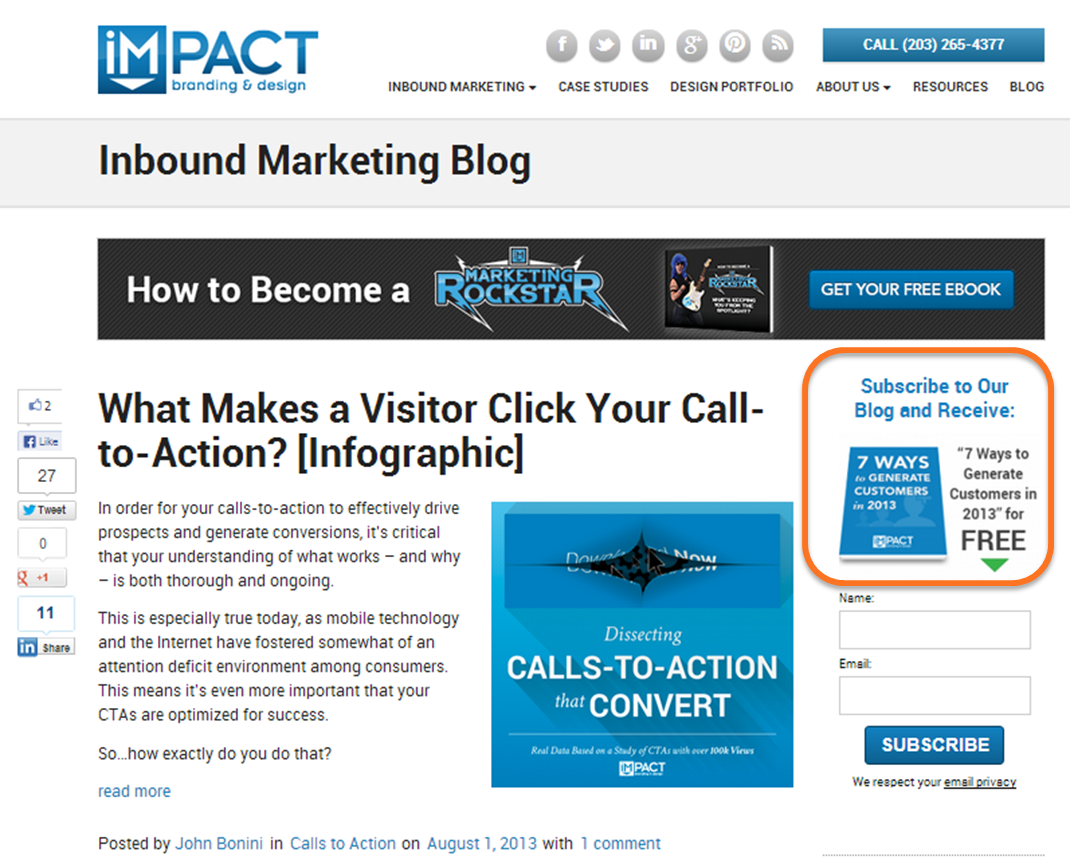 3) Promote Blog Subscription With Smart Calls-to-Action (CTAs)
Be more "in your face" about converting your blog visitors into subscribers by creating subscriber CTAs and placing them directly within each of your blog articles. Don't worry — they don't have to replace your articles' lead-gen CTAs; just insert your blog subscription CTA as a secondary CTAdirectly below the one you're using for lead generation (like we've done at the bottom of this very post!). Here's what I mean:
If you're worried about it impacting the clickthrough rate (CTR) on your lead-gen CTA, just keep a close eye on your CTA analytics. When we implemented this on the HubSpot blog, we didn't notice any dip in CTR on our lead-gen CTAs, but you should always test for yourself.
And Make Them Smart!
Here's the thing: If a visitor is already subscribed to your blog, it doesn't really make sense to continue displaying your subscribe CTAs to them, now does it? These people are already subscribed, and it's a much better, more contextual use of your blog's real estate to show off that lead gen CTA front and center — by itself. So how do you make sure you're only showing your subscribe CTAs to visitors who aren't yet subscribed? Technology, my friends … technology. I like to call these CTAs "magic CTAs," because sometimes they're invisible 🙂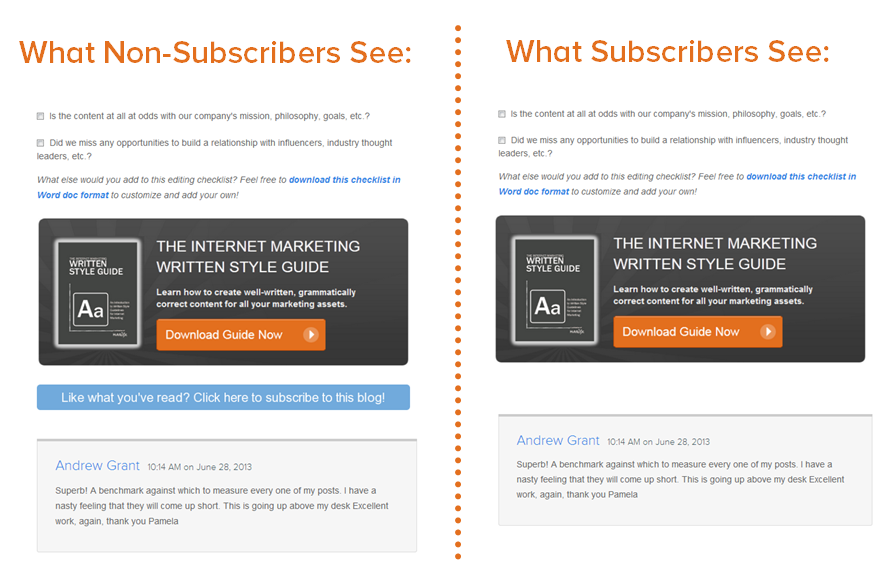 To create these "magic" CTAs, you are, however, at the mercy of your software. They're powered by dynamic content, so you'll need marketing software with this type of functionality.(Note: HubSpot customers can use a combination of the new HubSpot Blog COS and Smart CTAs to create these. You can find instructions about how to set them up in this blog post.)
Where appropriate, use your blog subscription CTAs on other pages of your website as well to give visitors a low-commitment conversion alternative. You might also consider adding your blog subscription CTAs to other Smart CTA groups to allow you to automatically customize which CTAs get shown to users in different lifecycle stages or based on specific list criteria.
…to be continued…
Contact us if you need a website, or the website you have needs some work and a blog. Have a great day, and stick around for Part II of How to Get More Subscribers. Tootledoo, and have a great weekend!