Hi there readers!
Welcome to the final part of our series featuring Hubspot's, "How to Convert Casual Blog Visitors Into Dedicated Subscribers". Read on for more awesome information on turning your blog into a success!
"How to Convert Casual Blog Visitors Into Dedicated Subscribers
…continued…
4) Create a Blog Subscription Landing Page
Now that you've got all these great subscribe CTAs, you need somewhere to point them to. Sure, you already have your subscribe module on your blog's homepage (at least you do now after our second tip, right?). But if you start promoting subscription to your blog via other marketing channels like social media and email (more on that later), it will start to get a bit complicated to direct visitors to that module. You'd have to say something like this:
"Go to blog.hubspot.com, and … see that little field on the top, right-hand side of the blog? Enter your email address there to subscribe."
That isn't exactly the optimal way to promote blog subscription, is it? And can you imagine trying to fit that into a 140-character update for Twitter? Furthermore, you'd be adding a lot of friction to the conversion process, meaning you're guaranteed to lose out on some valuable subscribers along the way.
So what's a more effective way to convert blog visitors into subscribers? Think … you know the answer. It's the same way you convert website visitors into leads. That's right — a landing page!
Create a blog subscription landing page to convert those blog discoverers into dedicated blog subscribers. This will become the heart and soul of your blog subscriber conversion efforts, allowing you to more easily promote blog subscription through your other marketing assets. So instead of that convoluted message directing people to the little module on your blog's homepage, you can just link your CTAs directly to your landing page and say things like, "Visithttp://blog.hubspot.com/subscribe to subscribe to the HubSpot Marketing Blog!" in your social media and email promotions. So much simpler, right?
Tips for Optimizing Your Subscribe Landing Page
Optimize your subscription page using the same best practices you would for any other landing page on your website. Include descriptive headers/subheaders that capture visitors' attention and summarizes what they'll get, demonstrate the value of subscribing in your landing page copy, include a high-quality image, and emphasize email subscription by placing the form above the fold. You can also incorporate other elements — like social proof — to help boost conversion rates. Speaking of boosting conversion rates, don't be afraid to do some A/B testing like you would for any other landing page (here's a great article on landing page A/B testing to get you started).
Last but now least, if your blogging software gives you the option, offer your prospective subscribers frequency options so they can choose how much (or how little) email they want to receive for their blog notifications. (HubSpot Customers: If you're using the new Blog COS, you can provide instant, daily, weekly, and monthly email frequency options to your subscribers.)
5) Add a Blog Opt-In Check Box to Your Landing Pages
I'm really excited to share this tip with you, because it caused us to increase our blog subscribers by 128% in just 3 months' time. I kid you not. And all we did was add a new check box field to all our landing page forms so people could subscribe to our blog with just one click. Here's what I mean: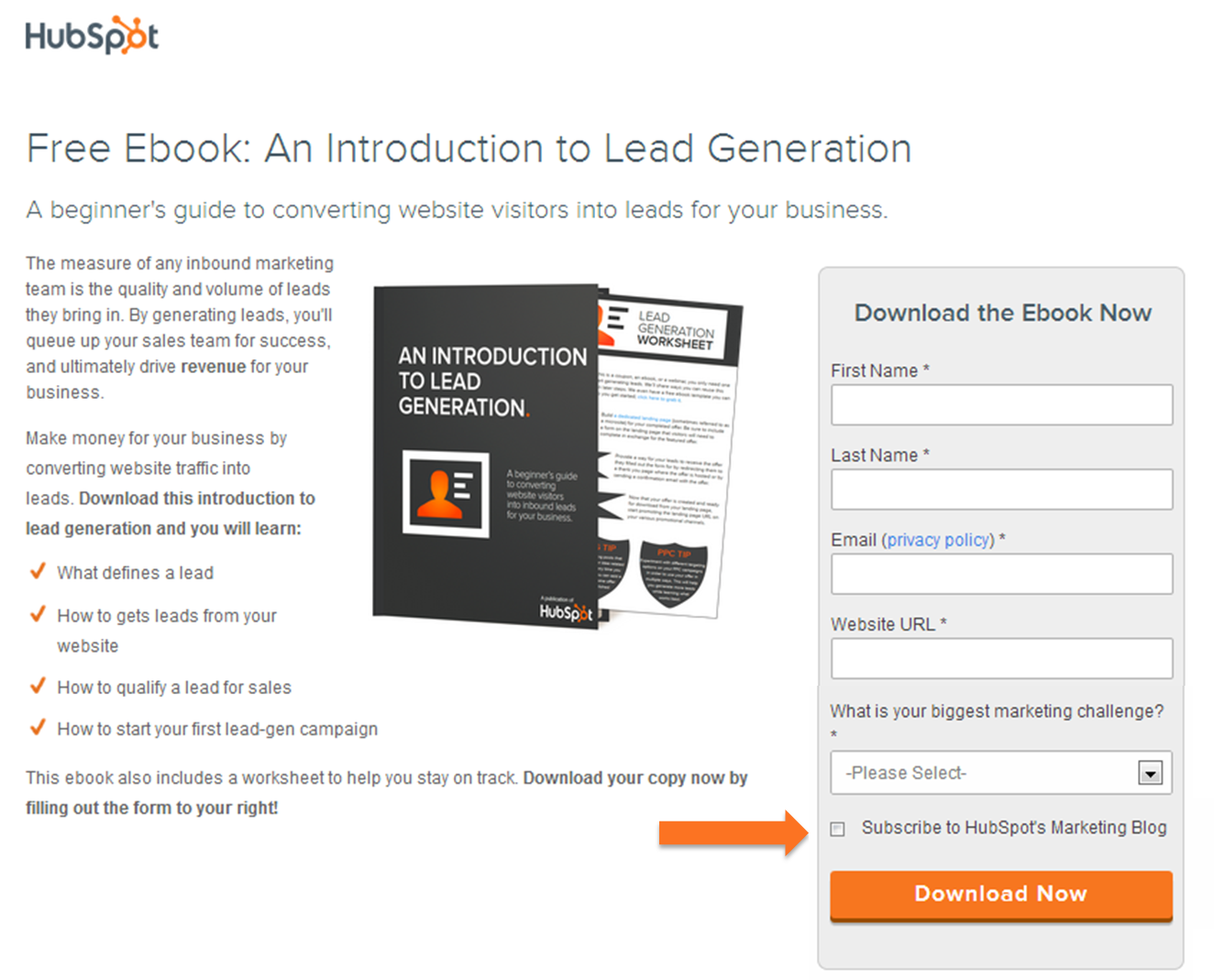 If your blogging software is integrated with the rest of your marketing software, this trick is very easy to implement. At the simplest level, you need to have control over the fields on your landing page forms as well as the ability to export a list of people who opt in to your blog through these forms so you can add them to your blog subscriber list. And HubSpot users who use the new HubSpot COS (note: this will not work on HubSpot's legacy CMS), will be able to easily start boosting their email subscribers with this little trick without any manual maintenance once it's set up. To learn how to set it up, we have detailed instructions in this blog post. Check 'em out!
Just keep in mind that the new blog subscribers you generate through these landing page check boxes won't impact new lead generation directly. Because these people are subscribing to your blog because they're filling out forms for your lead gen offers, they're already leads. However, they do have the potential to increase the readership and help you reach new audiences through mechanisms like social sharing and email forwarding. You'll also benefit from using your free blog content as a way to nurture existing leads.
6) Do Some Email Marketing
In addition to promoting blog subscription through social media and CTAs on your website,email marketing can serve as another effective channel for driving blog subscriptions. Here are two great email marketing methods through which to promote blog subscription:
In a Dedicated Send
Promote blog subscription to different segments of contacts in your marketing database. Tailor the messaging and language you use in your dedicated send to the interests and needs of that segment. For example, you could segment your list by people who recently converted on a particular offer, and promote subscription by providing examples of articles related to topic of the offer they downloaded as a way to demonstrate the value of subscribing.
Within Lead Nurturing Workflows
Not every email within your lead nurturing workflows needs to promote a lead gen offer. Switch it up by featuring some of your big hit blog articles targeted at the types of people you're emailing in your segmented workflows.
In what other ways can you turn your casual blog readers into dedicated subscribers? Share your tactics in the comments!
And to learn about the other critical steps to blog marketing that can help you increase the reach and ROI of your business blog, download our ebook, How to Grow & Scale Your Business Blog.
Editor's Note: This post was originally published in October 2012 and has been revamped and updated for accuracy and comprehensiveness."
Contact us if you want a website or inbound marketing campaign that will rock your business's world. Until next time, stay classy!